White Horehound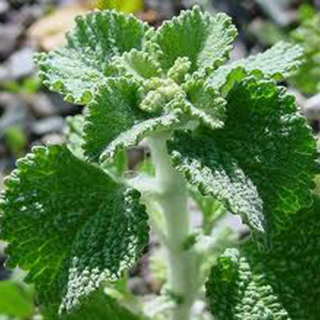 Marrubium vulgare (White Horehound or Common Horehound) is a flowering plant in the family Lamiaceae, native to Europe, northern Africa and Asia. White Horehound is distinguished from other species by its woolly stem, the densely felted hairs on the leaves, and the tentoothed teeth of the calyx. Horehound soothes the upper respiratory tract, suppresses coughing and promotes expectoration. The gentle laxative and digestive bitter effects are also helpful for treating stasis. Horehound gets things moving. Taken as a hot tea, horehound will help bring on delayed menstruation.
Dose
TEA
The tea may be made by pouring boiling water on the fresh or dried leaves, 1 oz. (28g) of the herb to the pint (500 ml). A wineglassful may be taken three or four times a day.
Garden
GROW
White Horehound is a hardy plant, easily grown, and flourishes best in a dry, poor soil. It can be propagated from seeds sown in spring, cuttings, or by dividing the roots (the most usual method). If raised from seed, the seedlings should be planted out in the spring, in rows, with a space of about 9 inches or more between each plant. No further culture will be needed than weeding. It does not blossom until it is two years old.

HARVEST
Harvest horehound while the plant is flowering. Flowering occurs in plants more than a year old from June to September. During the plants first year it will not produce any flowers but leaves can be harvested. About one-third of the leaves and all flowers of the plant can be harvested.
Herb Details
Marrubium vulgare
Leaves, flowers