Senna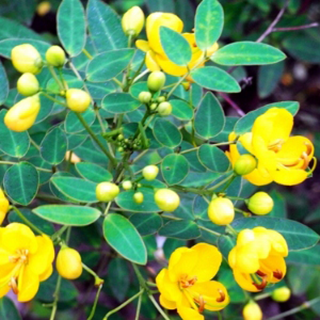 Native to Egypt, Sudan, Somalia, and Arabia, senna was used in the 9th century by Arabian physicians as a cathartic, or strong laxative. Its use soon spread, and both pods and leaves are still used as laxatives. The leaves are known as fan xie ye in traditional Chinese medicine, while their Indian name, rajavriksha, translates as "king of trees."
Dose
INFUSION
For constipation, soak 3–6 pods (15–30mg) in 1 cup of warm water and drink last thing at night. Add a slice of fresh ginger root or 1 tsp of fennel seeds to combat griping pains caused by an increase in bowel movement. Use half the adult dose for children over 10 years.

FLUID EXTRACT
Take 5–10 drops (1/4–1/2ml) of senna leaf extract in a little water at night for constipation.

TINCTURE
Take 10–30 drops (1/2ml–11/2ml) in a little water at night for constipation.

TABLETS/POWDERS
Take 1–2 tsp of granules or 2–4 tablets at night for occasional constipation.
Garden
GROW
Prefers rich, moist, sandy soil in full sun. Requires a minimum of 41F (5C) to grow, but can be grown in containers in cooler regions. Sow seeds in spring and transplant to containers or final growing positions when well established, or take semi-ripe cuttings in spring.

HARVEST
Pick leaves before and during flowering; gather pods in autumn when ripe.
Herb Details
Senna alexandrina
Leaves, pods