Ribwort plantain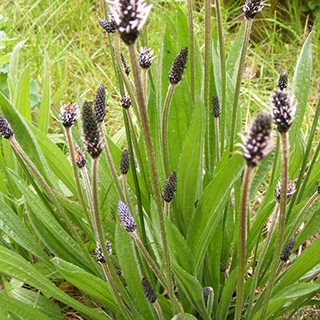 Both ribwort plantain and its broad-leaved cousin common plantain (Plantago major) are among the most common European weeds likely to be found anywhere, from pavement cracks to hedges. The plants are also found in the temperate regions of Asia, and were introduced by settlers into North America and Australia. Plantain is a first-aid standby in folk tradition. Plantain is a spring tonic, a gentle alterative, antiseptic and astringent. The uses are legion, including the treatment of toothache, infections, cough, diarrhoea and haemorrhoids. Plantain is specific for treating skin problems, such as eczema or acne. The seeds contain large amounts of mucilage and are a direct and often-used substitute for psyllium, demonstrating the same emollient and laxative effects. These should always be taken with large quantities of water.
Dose
TINCTURE
Take 60 drops–1 tsp (3–5ml) 3 times daily for catarrhal conditions or digestive problems, including gastritis and irritable bowel syndrome.

JUICE
Use fresh leaves to make a juice and take in 2 tsp (10ml) doses 3 times daily to soothe cystitis, diarrhea, and lung infections. The juice can also be applied to wounds and sores.

INFUSION
Drink 1 cup (2 tsp herb per cup boiling water) 3 times daily for catarrhal conditions or use as a gargle for sore throats.

SYRUP
Add 8oz (225g) of honey to 10fl oz (300ml) of above infusion and take in 1 tsp (5ml) doses as required for sore throats or productive coughs.

POULTICE
Use fresh leaves, mashed into a pulp, for slow-healing wounds and chronic ulcers, or apply the fresh leaves to insect bites and stings. To make a pulling poultice for dental application, mash the leaves and wrap in 1 or 2 layers of clean cheesecloth or gauze, shaping in small balls. This can be placed between the inner lip and the offending tooth or swollen gum.
Garden
GROW
Prefers moist, poor to moderately fertile soil in sun, or partial shade. Usually found as a self-seeded garden weed, although seeds can be obtained from wild flower specialists. Sow seeds where you want them to grow in spring or in 3in (7.5cm) pots in a cold frame, and plant when established. Flowers, usually produced in the second year, appear from early spring until first frosts. It is generally included in wild meadow plantings, but self-seeds enthusiastically and can easily become invasive.

HARVEST
Gather leaves in summer.
Herb Details
Plantago lanceolata
Leaves, seeds
Acidity, Acid Reflux, Asthma, Blood Cleanser, Breathing Difficulties, Colitis, Spastic Colon, Congestion, Chest, Detoxifier, E.Coli Fighter, Expectorant, Hangover, Hemorrhoids, Kidney Health, Lungs, Health, Mucous Conditions, Phlegm, Poisons, Antidote, Poison Ivy, Prostate Problems, Ringworm, Scabies, Shingles, Sinus Congestion, Vomiting, Colds, Toothache, Coughs, Diarrhea, Skin Health, Eczema, Acne, Blemishes, Laxative, Digestive Disorders/Distress, Gastric Distress, Irritable Bowel Syndrome, Cystitis, Wounds, Throat, Sore, Ulcers