Motherwort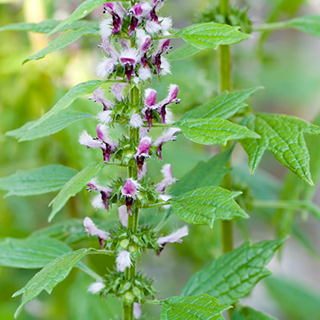 As its name suggests, motherwort has a long tradition as a woman's herb and was used both to calm the mother in childbirth and encourage contractions. Native to much of Europe, the plant has striking foliage and is sometimes grown as a garden ornamental. Motherwort brings on delayed menstruation and promotes regularity of the menstrual cycle. It is also used in regulating hyperactive thyroid, treating heart conditions and it is commonly given for palpitations and to improve heart function.
Dose
INFUSION
Drink 1 cup (1–2 tsp dry herb per cup boiling water) 3 times daily for anxiety, menopausal problems, or heart weakness. Sip the tea flavored with cloves (Syzygium aromaticum) during labor and after childbirth to help restore the womb and reduce the risk of bleeding. Combine with lemon balm and lime flowers and use 2–4 tsp per cup to relieve symptoms of angina pectoris.

TINCTURE
Take 1 tsp (5ml) 3 times daily for palpitations, menopausal problems such as hot flashes and emotional instability, rapid heartbeat, or PMS.

SYRUP
Combine 1 part of the decoction of the dried herb with 2 parts of honey by volume. The syrup has a calming influence and is used for the same purposes at the tincture, but is of marked advantage due to the improved taste.

CAPSULES / POWDER
Use as an alternative to the bitter infusion, take 2 x 500mg capsules, 2–3 times daily.
Garden
GROW
Prefers moist but well-drained soil in sun or partial shade. Sow seeds in a cold frame in spring and transplant to their final position when the seedlings are wellestablished; allow 18in (45cm) between plants. Alternatively, propagate by division in spring or autumn. It can self-seed enthusiastically and become invasive.

HARVEST
Gather in summer while the plant is flowering. Seeds are harvested at maturity and dried.
Herb Details
Leonurus cardiaca
Aerial parts, seeds