Horsetail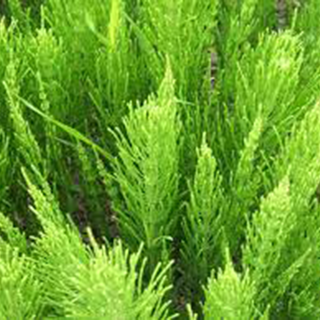 Native to Europe, Asia, and North America, horsetail is a survivor from prehistoric times. This early plant has been unchanged for millennia and once formed the vegetation that decomposed to produce coal seams. It encourages the healing of connective tissue, and has been used as a wound herb to stop bleeding since ancient times.
Dose
DECOCTION
Take 1/2–1 cup of a decoction made from 1/2oz (15g) of the herb to 1 pint (600ml) water 3 times daily for excessive menstruation, inflammation of the urinary tract, prostate problems, or chronic lung disorders.

JUICE
Take 1–2 tsp (5–10ml) 3 times daily for damaged lungs or urinary disorders.

BATH
Add 1 cup of the decoction to bath water for sprains, fractures, or irritable skin conditions including eczema.

POULTICE
Use 1 tsp of powder made into a paste with a little water, or a handful of the fresh aerial parts sweated in a bowl over a saucepan of simmering water (bain marie); spread on gauze and use for leg ulcers, wounds, sores, or chilblains.

MOUTHWASH/GARGLE
Use 1/2 cup of a decoction with an equal amount of water for mouth or gum infections or sore throats.
Garden
GROW
Prefers moist soil in full sun or partial shade. Usually propagated by root division in early spring. Under statutory control as an invasive weed in some countries.

HARVEST
Cut stems in the growing season.
Herb Details
Equisetum arvense
Aerial parts
Bone Health, Bursitis, Conjunctivitis, Eyes, Gravel, Gums, Bleeding, Hair Health, Hemorrhaging, Hemorrhoids, Incontinence, Kidney Health, Kidney Stones, Magnetism, Nails, Health, Nosebleed, Skin Repair, Tissues, Streptococcus, Tissue Repair, Ulcers, Urinary Tract Infections, Urination, Painful, Wounds, Bed Wetting, Vision, Menstruation, Heavy Bleeding, Lungs, Health, Eczema, Mouth Sores, Gums, Infection