Goldenseal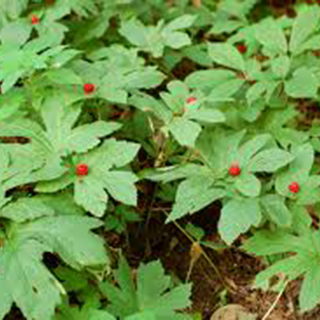 Used by Native Americans for a wide range of ailments including whooping cough, liver disorders, and heart problems, goldenseal originated in mountain woodlands in North America, and today is used mainly for ulceration and inflammations affecting the mucous membranes. By the 20th century, over-harvesting caused the plant to become endangered. Goldenseal is antimicrobial and tonifies the mucus membranes. The herb is often inappropriately used at the first signs of upper respiratory infections and is best employed during the second-phase, upper respiratory infections where there is redness and swelling of the membranes and/or copious discharge of thick yellow or green mucus. In small doses, the herb acts as a bitter stimulant to digestion and tonifies the entire digestive tract. The value of using Goldenseal as an anti-parasitic and as an alternative for treating cancer should not be overlooked. The herb is a specific gynaecological remedy for controlling uterine bleeding.
Dose
TINCTURE
Take 10–40 drops (0.5–2ml) 3 times a day for catarrhal conditions, mucous colitis, gastroenteritis, or vaginal discharge, as a liver tonic for sluggish digestion, or to help control heavy menstrual and postpartum bleeding.

MOUTHWASH / GARGLE
Use 40–60 drops (2–3ml) of tincture in 3 1/2 fl oz (100ml) of warm water for mouth ulcers, gum disease, sore throats, and catarrhal conditions.

INFUSION
Basic tea or cold infusion of dried leaf and stem or cold infusion made by mixing 1/2 teaspoon of dried, powdered root in one cup of cold, distilled water.

CAPSULES
Use 1 x 300mg capsule 3 times daily for catarrh, infections, or with powdered eyebright to relieve hay fever symptoms.

OIL
Make an infused herbal oil of the fresh or dried leaves and stems of goldenseal along with other ingredients such as calendula flowers, chickweed and comfrey. This will have an antibacterial effect and is especially healing to mucous membranes.

EXTERNAL
The powder of root and rhizome may be dusted directly onto wounds as an antibacterial dressing. The tincture may be applied at full strength or diluted at the rate of 1 dropperful (30 drops) per cup (240ml) of cold water for treating infected wounds, eczema, haemorrhoids, and skin ulcerations.

EYE WASH
To treat conjunctivitis (pink eye) use the full strength of a cold infusion of the powdered root. Alternatively, use the tincture of the root diluted in distilled water diluted at the rate of 10 drops per cup (240 ml). Using a clean dropper or sterile eyecup, flood the eye several times daily until symptoms disappear.

NASAL DOUCHE
30 drops of root tincture diluted in a cup of water, 1 time daily. Cold infusion of dried root used full strength 1 time daily.
Garden
GROW
Prefers moist, well-drained, slightly acid to neutral soil in shade. Plant seeds in a cold frame in small pots when ripe. Pot and plant when large enough, or propagate by root division in autumn.

HARVEST
Roots of mature plants are lifted in the autumn after the plant has matured fruit and seed or during dormancy, used fresh or dried. Leaf and stem are harvested after the plant has matured fruit and seed and used fresh or dried.
Herb Details
Hydrastis canadensis
Root, rhizome, leaves, stem
Acne, Blemishes, Athlete's Foot, Canker Sores, Colitis, Spastic Colon, Conjunctivitis, Eczema, Eyes, Fungal Infection, Hemorrhoids, Impetigo, Lupus, Measles, Meningitis, Menstruation, Heavy Bleeding, Mouth Sores, Mucous Conditions, Nail Fungus, Nasal Infection, Phlegm, Pink Eye, Rashes, Respiratory Disorders, Ringworm, Salmonella, Sinus Congestion, Spinal Nerves, Health, Throat, Sore, Thrush, Ulcers, Vaginal Infections, Viruses, Wounds, Yeast Infections, Blemishes, Candida, Colds, Vision